The most fundamental question asked after a car wreck in Florida is, "Who pays my bills?" The answer is not as simple, but after reading this article, you should have a general idea of how the process works. We've discussed property damage in different posts, so for the purposes of this article, we are referring to medical bills, out of pocket expenses, and wage loss.
Who Pays My Bills If I'm In a Car Wreck in Florida?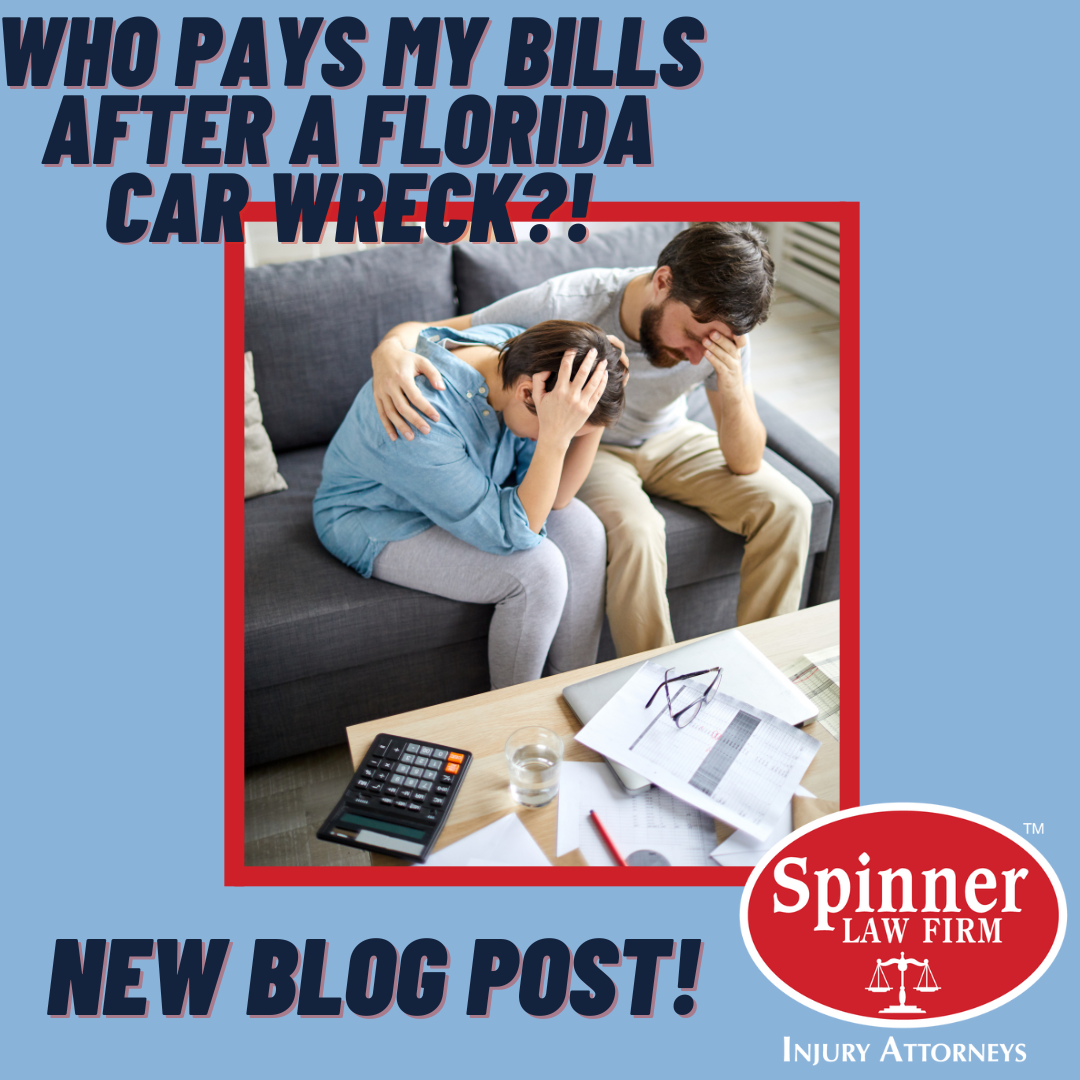 The most fundamental question asked after a car wreck in Florida is, "Who pays my bills?" The answer is not as simple, but after reading this article, you should have a general idea of how the process works.
We've discussed property damage in different posts, so for the purposes of this article, we are referring to medical bills, out of pocket expenses, and wage loss. Feel free to browse our other posts to learn about property damage and other types of damages that may come about in a car wreck.
If you are injured after someone else causes a car wreck, you may incur medical bills associated with regaining your health and overcoming injuries. You might also experience wage loss due to time missed for injuries, attending appointments, or having surgery. These bills or loss of income are unexpected and can cause sheer panic. Although this list does not consider every possible payment method, it covers the major sources we frequently see in these cases.
1. Personal Injury Protection (PIP)
The first stop after a motor vehicle collision is your own auto insurance policy. Florida currently requires all policies to carry personal injury protection (PIP), from which there is $10,000 per person in the vehicle to pay for medical bills, out of pocket expenses, and wage loss. This is a no-fault policy, so you can use this coverage regardless of whether you or someone else is responsible for the wreck. Many other options we discuss likely require you to exhaust your PIP coverage before you can use them.
PIP pays at various percentages depending on what type of damage it is covering. For instance, medical bills are paid at 80%.
Once PIP is exhausted and all $10,000 has been used, the PIP policy terminates and you cannot use any further coverage through it.
2. Medical Payment Coverage
You may have elected medical payment coverage in addition to your PIP coverage. If you did, you may use this policy to continue paying medical bills or to cover the 20% that is not covered by PIP. If you didn't elect to carry this coverage, you cannot utilize it. Medical payment coverage can often be found in $5,000 or $10,000 amounts, and some carriers can even offer $25,000. If you don't have medical payment coverage currently, you may wish to speak with your insurance agent about adding it as medical payment coverage can greatly help reduce the out-of-pocket expenses that arise from medical treatment after a car wreck.
3. Bodily Injury Coverage
Bodily injury coverage can be found in the policy from the at-fault driver, as it is does require a determination of fault before it can be used. If you caused a wreck, you cannot utilize your own bodily injury coverage, nor can you utilize the bodily injury coverage of a not-at-fault party.
If you did not cause the wreck, and liability has been accepted by the other driver's insurance carrier, you may be able to submit medical bills, out of pocket expenses, wage loss, and other types of damages for reimbursement through settlement. There are two caveats that are crucial when considering bodily injury coverage.
The first is that bodily injury coverage in Florida is not mandatory. Therefore, you may have been injured by an at-fault driver that elected to not carry bodily injury coverage. If this is the case, you may need to file a lawsuit against the defendant driver directly or pursue uninsured motorist coverage against your own insurance carrier, discussed below.
The second is that a bodily injury reimbursement comes in the form of a settlement and occurs one time. This policy, unlike PIP or medical payment coverage, does not pay bills or damages as you go. Therefore, you may need to wait to settle the bodily injury coverage until the extent of your injuries and treatment are known. Understandably, this may cause great hardship to you while you seek treatment.
Bodily injury coverage is subject to the "limits" the insured contracts with the carrier to cover. The minimum limits allowed in Florida are $10,000 per person and $20,000 per wreck. This means that if you have other occupants in your vehicle, or perhaps another vehicle is involved, you may only take up to the first number ($10,000) and everyone involved cannot together take more than the second number ($20,000). If there are many people involved with injuries, and a minimum amount available through the bodily injury policy, you may need to attend a settlement conference or a mediation in order to determine how much each injured person is entitled to. We highly recommend obtaining a lawyer to assist you if this is required.
Insureds can carry many different amounts of "limits" ranging from $25,000/$50,000, $50,000/$100,000, $100,000/$300,000 and even higher. This is completely dependent on how much coverage the person who caused the wreck elected to carry, and it varies in each wreck.
4. Uninsured/Underinsured motorist coverage (UM/UIM)
As we alluded to above, you may need to rely on your own insurance carrier in certain circumstances. Most often this occurs by filing a claim under your uninsured/underinsured motorist coverage.
If you are injured by an at-fault driver, and they did not carry bodily injury coverage, you can make a claim against your own insurance for uninsured motorist coverage. In this situation, your insurance will effectively jump in the shoes of the at-fault driver and settle with you utilizing whatever policy limit you elected to carry through the uninsured motorist coverage.
Similarly, if the at-fault driver had bodily injury coverage, but the amount they carried was insufficient to reimburse you completely, you can utilize the underinsured motorist coverage to supplement the amount lacking in the bodily injury coverage.
Like bodily injury coverage, utilizing UM/UIM coverage requires you to not be at fault for the wreck, is subject to whether you elected to carry this type of coverage, and is limited by the amount you chose to carry.
5. Health Insurance (including Medicaid and Medicare)
A misnomer of a car wreck is that you cannot use health insurance. This is incorrect, but there are a few things to consider when doing so. First, you cannot use your health insurance until your PIP policy is exhausted. All medical bills should filter through your PIP policy until the $10,000 is exhausted. After the policy is used up, you can then use your health insurance assuming the providers you are treating with accept your health insurance.
Second, any payments made by your health insurance that relate to an auto wreck is subject to a "subrogation lien." This means that in order to avoid a double recovery in that your health insurance paid a bill and then you recover the same bill from the car insurance, you must pay back at least a portion of the money paid by your health insurance carrier after you recover from the car insurance. Subrogation liens must be considered and addressed once you've settled your car wreck claim against the various car insurance carriers.
Of course, if you are unable to recover from a car insurance carrier for one reason or another, you need not pay back your health insurance carrier. Thus, this subrogation lien is contingent on a recovery from an auto insurance carrier. It is also important to note that you are still responsible for co-pays and deductibles just like any other medical treatment.
6. Workers' Compensation
Workers' compensation claims that arise from a car wreck are complex and deserve an entire article devoted to discussing this process. If you're on the job at the time of the wreck, you may be entitled to pursue a workers' compensation claim in addition to the various auto insurance claims discussed above.
If you have an admitted workers' compensation claim, the workers' compensation claim will pay 100% of the related and necessary medical treatment for injuries that arise from the wreck. Just like health insurance, the workers' compensation carrier will hold a subrogation lien against the auto claim, and in order to avoid double recovery, you must consider and satisfy the lien after settling with the auto insurance carriers.
Making sure your rights are preserved while paying subrogation liens from health insurance or workers' compensation can be complicated and we highly recommend consulting with a personal injury attorney and consider retaining a lawyer to make sure your interested are preserved correctly.
There are other miscellaneous methods of getting bills paid while you seek medical treatment after a motor vehicle collision. Spinner Law Firm works every day with our clients to ensure this process does not add unnecessary hardship, and we look at each situation independently to find the best possible solutions for ensuring your bills are paid.
If you or someone you know has been injured in a car wreck and wants to discuss options specific to your case, call us today for a free consultation with one of our experienced lawyers.
Our fee is completely contingent, meaning our clients do not pay anything during the process and only pay if we are successful in resolving the case.